Sorry for DP.
If anyone wants to know what I got up to this week away on residential then I hope you can get through this essay

Plus if anything sounds weird it's because I wrote it for Tumblr first. Oh and the pictures aren't of me, I got them off the internet.
Monday.
Well I got to our building pretty earlier but most people were already there anyway. When I saw how big Leeís suitcase was I didnít feel as bad for over packing mine. We had to sort our own shopping lists out and then write our group one. My day does get more exciting I promise

We must have looked a right sight getting our shopping in at Asda, all these teenagers with full up trolleys. We had so much food, we seemed to be at the till for ages and the woman was asking where on earth we were going with all this food. The mini bus journey was fun like last time, us all singing along to cheesy songs and having a laugh. We got to our cabin which is called Owlís Nest and it has loads of owl things around. Itís a Brownies and Guideís place I think. They have loads of their old annuals there. We all had the same beds again so I got in the room that has 4 beds and the bathroom.
I think we went out orienteering again after we unpacked. Yeah we did, my memory is so bad. But we just chilled in the chapel, which is just some logs set up and a cross made of two twigs. Then we went out and did this pod challenge and I was a leader

We had a plastic pod which was our survival pod and we had to go and find things in the wood which would help us survive. So like put a twig in to use for fire, more symbolic really. We found a glow stick and plastic bags to use for waterproofs and I put a feather in for a brush or to clean with and charcoal for eyeliner

I think my group may have won that challenge. Then it was time for my team to cook. We did chicken fajitas and made our own salsa too. It took ages and it was so bloody stressful because people kept wanting the food. I burnt Stevieís plain chicken as well and Lisaís (our leader) veggie fajitas. But we got it all out and got everyone fed. Some people decided to be greedy bastards though so there wasnít enough to go round and by the time me and Lee sat down there wasnít much chicken left. Ashley P loved our salsa though

I was so glad we cooked the first day because cooking for 17 people is stressful I tell you now.
Then we split into groups to choose our 2 week project. Our two week project is doing something for the community, the one we ended up choosing is revamping a childrenís playground at an infant school for kids from low income families. Our group had something called the Pathway Project to present to the group and it was again revamping a childrenís play area but in a safe house for women and children who have suffered domestic abuse. We didnít end up choosing that one though because someone in our group actually lived at the place for quite a while and they canít deal with going back there, which we all completely understand. But we all had a project to present to the group and then we had to decide which one we wanted to all do. It stirred up a lot of emotions for people though and there was a lot of crying. Then someone told Lisa someone had been in their bag and we had some huge crisis and all had to discuss what to do and see if anyone would admit to it. We all had to go out to Lisa and tell her if we had or hadnít opened the bag. No one admitted to it but nothing had actually been taken and she thinks itís a prank that went wrong. Anyway itís all forgotten and I personally trust everyone on the course.
So after all the drama we went on a treasure hunt in 2 teams. We had to find 6 pods but our team only found 1. We were rubbish. It took us all ages as well. Our Ďtreasureí was fake money, notes on what we had to do like be up round the table for quarter to 8 and then some equipment like balloons and string. We had to have the equipment on us at all times or Lisa would rob it and we had the money because we had to pay Lisa for each activity and then negotiate how much weíd get back for completing it and in what time. We all got fined a lot Tuesday for swearing but that cut down a lot during the week. Our curfew for bed was 1am and we didnít get back in til 12:30am so we didnít have much free time.
Aimme ended up swapping beds with a girl because she didnít want to sleep in the big room. This girl ended up staying up pissing around 40 minutes after curfew and then kept talking and texting whilst we were trying to sleep. We had Lisa banging on the wall and I said to Stevie there is no way Iím getting in trouble for her talking. And so this led to things kicking off in the morning.
Tuesday.
I was in the bathroom Tuesday morning and heard Lisa outside but I got in the shower anyway. She started screaming at me and hammering on the door much to my entertainment. I was just giggling away and I told her I was only gonna be a few minutes. I got out to a very zombified Lisa not looking very happy haha. Then we had a meeting round the table and Lisa asked us to write down on a post it note how we all slept. So we wrote about the girl keeping us awake and most other people in the other room wrote it too. Even the boys on the other side of the room. So she started kicking off at Lisa and as Iíve said before Lisa is scary when she gets angry. She sent her to the kitchen with Graham and was still kicking off so Lisa said that was it, pack her bags and sheís been kicked off the course completely. Itís stupid, weíre not in school people should not be so rude to Lisa.
So this was our team building day and it was pretty boring. Really boring. This bloke, Richard came to instruct us and he was really boring and stingy with the money. He got out the van, and before even saying hello he fell over on the decking xD like went flying so we all burst out laughing. God, what can I say about our team building activities. Well it was freezing outside and my ears killed that day, I thought I was going to die. We had some shitty activities like all being blindfolded and turning a circle of rope into a square. That one wasnít bad actually. But we had one where we all held the rope and had to make a knot. Just boring. And like a hexagon made with pole and poles in the middle and we had to move 4 to make a triangle. Just boring. I led the activity where we all had to stand on a mat and then we had to turn it all the way over while all stood on it. The only fun activity was where we had 3 parachutes and we had to launch a ball to all three parachutes and then we had to launch it into the net at the end. Took us a while to get the hang of it but we did pretty well. It was loads of fun.
The other activities were balancing on metal beams and all trying to get round the beam and no one can fall off. They were funny actually because if one person fell another 7 would. We had this one where there were 3 metal beams and it was kind of like skiing, we had to pull the beams with us on quite a long way. It took ages until we came up with the idea of balancing on one and dragging them and people kept quitting because we all felt cold and ill.
I canít remember what else we did then, must have done something when we went in because we got in pretty early. Probably our review because we have to review everything. We do good points, development points (weíre not allowed bad points) and then special mentions to people who have done well. Itís a very good thing to do. Our tea that day was a chicken curry which was very nice, we had naan bread and popadoms too

and for pudding we had a chocolate cheese cake with marshmallows. I hate cheese and cheesecake but it didnít taste of cheese at all and Lexi cut me a massive piece with like 6 marshmellows. Gotta love her for that one. Oh thatís what I did, wash my hair. Nothing exciting, thatís what happened in the gap. After tea we did a thing called In My Dreams and we had to write what our dream things would be like dream job, house, drink, car and all that. I said Iíd live with Catherine Deneuve (when she was younger but Iím sure you know how much I love her) and of course no one knows who she is. I said Iíd be friends with David Bowie too and some people didnít know who he was. WHAT THE FUCK! WHO HASNíT HEARD OF DAVID BOWIE. Deary me. Oh and the girls were fighting over Johnny Depp. Lexi wasnít sharing him

Graham, who is Lisaís boss and who came on his first residential with us wants to be a playboy which has given us much entertainment because heís like 50/60. He wants to be a playboy xD oh dear. Funny stuff. We did have a laugh and a few surprises at peoples answers but itís very interesting to find out things about each other. I have to say I love our group so so much. God I love them. Oh I washed up as well, I washed up every bloody day to be fair. But I was having such a laugh with Ashley P washing up. Heís hilarious and so cute. Not like attractive cute, just sweet. We do have a laugh, I always end up walking round with him and we make fun of each other a lot. Our bed time was 11pm and we were all cream crackered by then. I was glad not to have to go outside at night.
In the night though, about 12:30 am a lad had a diabetic fit which was really scary and we had the ambulance come and everything. Luckily they brought him back round and he didnít have to go to hospital. We have had the most stressful residential apparently and Lisa has never had to go back to Tamworth so many times.
Wednesday.
This is the day it gets fun. Oh apart from the morning when two of the lads had a fight and that ruined our game in the morning. Yeah, weíve had a lot of ups and downs this week.
Our first activity was meant to be tree climbing but for some reason we got there then got sent to archery. It was so much fun. I got red on my first arrow and split an arrow on my second. So everyone was calling me Maid Marrion

I probably did the best out of everyone even though Ashley P got bullseye thatís all he got. We then had a competition between 2 groups and we had to hit any colour to stay in the game. If you hit it you went to the Gates of Glory and if you missed you had to sit in the Shack Of Shame. Graham was on our team as well haha. We all ended up in the Shack of Shame much to my delight of telling everyone to get in there. Only one lad actually hit the colour so won the game. Then we played again and me and 4 other got to the Gates Of Glory but then we didnít hit anything the second time round so there was no winner xD Oh we were rubbish. Oh I forgot we had a team game where we had to hit all the colours from white to red. We won but we only got to black because I got blue but not at the right time. It was so much fun though, mainly shouting at everyone to get to the Shack Of Shame.
We went off for lunch which my team was cooking, we had soup but we boiled it over and it went all over the hob

Yeah I donít fare too well cooking for so many people. But we were eating all the nice bread.
Then it was time for tree climbing. The tree is HUGE! HUGE! We have to be harnessed in and everything. The lads were being all competitive trying to get up as quick as possible but I had a stroll up the tree and a sit down. When you get to the top you have to ring the bell but I couldnít find it and it took me 2 minutes to find it

Lisa said itís never taken anyone that long haha. Trust me to be slow. I had fun doing it though and itís a really good view that high up. I loved it even if it was hard for us shorties to get ourselves up. Like I said the lads were competitive but Ashley P broke the record of 14 seconds because he got up there in 11.6 seconds. He was seriously fast. No idea how he managed it, took me ages. These boys

Oh it was fun. I loved it.
Then we did crate stacking. One person is harnessed in and then the rest of the team stack up crates and you have to try and make the tallest tower for the person on the harness to stand on. Aimee went on first and got to 12. I went to the harness and got to 11 but itís well scary. You feel so unstable and have nothing to hold on to. Lisa was laughing at me sticking my bum out. I fell off as well and Debs the instructor landed me back on the crates

I think Iíve developed a fear of heights this week. It was fun though swinging round. And then afterwards you get to cannon ball the crates to ruin it for the other team

Lexi went on for the other team and kept falling over and destroying their tower. It was hilarious and it meant we won with 12. Oh it was funny. I loved it. I loved everything Wednesday and Thursday.
We went back and did our review and I got a few special mentions mainly for cracking people up

but itís so nice to be acknowledged for trying and for people liking you being around. Iíve never really had anyone acknowledge the good things I do, we always laugh when we fail.
After tea we had to make a bow tie or just any decoration for our special dinner Thursday. I made a big red bow with polka dots and glitter, Iíll post a pic later. Took me forever and a day to draw it. Because we were in Owlís Nest a few people made owls

We also had to write an after dinner speech for Thursdays special dinner.
Thursday.
Right then. Our group was split in two so weíd have longer doing the activities. Our first activity was zip wiring. But we didnít have anything to hold on to so it was pretty scary. I hate ladders and we had to climb up a ladder and then like a telephone pole to get to the platform. Pretty Ricky was our instructor, named so as lots of the girls had a crush on him. I got up the top and I have never said ĎJesusí and ĎChristí so much in my life. He kept telling me he wasnít Jesus or Christ and he didnít have sandals. The platform is tiny and scary and I got him to push me off the first time but I did jump myself the second time. I screamed a lot too

They could hear me from the other activity. Both the lads and Jody managed to flip themselves upside down. Lisa said sheíd give us £1000 if we touched the tyre but Ricky said even he couldnít. Lexi said she was going to take a running jump off the platform but she got up there and got him to push her off haha. Oh it was funny. Really scary but it was fun.
Oh then we did a low ropes course. Itís just like lots of different set ups of rope that you have to get over as a team of 3. Itís all about balancing and helping each other. I was with Lexi and Ashley P and Lisa said we were the only team doing it right. Then we had to do it as a group and Lisa made some of us blind and I was one of them so we had blind folds on. Some people couldnít talk and some were given buckets of water to carry. If we fell of we set on fire and had to be put out with the buckets. Most of us got soaked xD It was a lot of fun. And our team did the best because we had excellent team work.
We had our lunch and then went to our next activity. Itís called Jacobís Ladder and well Iíll put a picture in but itís like a ladder with 6 gaps and the gaps are as tall as me. Jody and Ash went first but only Ash got to the top. Then it was me and Lexi. God I was so scared getting up there. Itís really hard to get up. You have to pull each other up but using each others ropes and harness and climbing on each others knees and feet. Every log we got to I kept saying I couldnít go further and I was so scared. You feel so unstable but Lexi was the best partner I could have asked for. Every log she just told me to have a breather and we took it slow. She would just get me to stand up and then have a break and then get me on the next log sitting and then have a break and then we eventually got there. I was petrified. I didnít even want to stand up on the last one but I did. Lexi was so supportive. The gaps are so big you have to jump and then swing your leg up and swing yourself up to sitting. Itís so hard. But Lexi sheís smaller than me and managed to drag me and push me up. On the last one she was like hanging on my leg humping it for a while, whilst I was lifting her up. It was fucking hilarious. I hope they got pictures. But we got to the top. I really was scared, I was near tears at one point. It kills your arms so much and it really is scary. But Iím so proud we got to the top and Iím so grateful of Lexi getting me there and waiting and encouraging me. Our whole aim of the week was team work and ours was the best. It was fun. It was I loved it afterwards. I got loads of special mentions for doing it too

and Graham gave me and Lexi a special mention for our team work.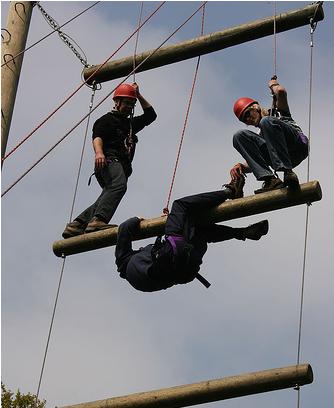 Then it was time for Go Karts. They were pedal Go Karts but it was still fun. I was on Lisaís team and sheíd gone and got silly string to spray in Grahamís teams faces and we cheated a lot by cutting the course. I was screaming all round that one too. We had loads of races and it was so fun.
We had our special tea which was a roast chicken dinner with Yorkshire puddings OH YEAH! I got 4! I love them so much. Well Lexi gave me some of hers

Lisa set up the table with folded napkins and everything, Iíll post a pic later. And we had to have our bows on. We had a cake for pudding and had to do our speeches. We all got very emotional and when Ashley P read his, he was crying so we all ended up crying and crying at a few other peoples ones as well. Then Grahamís speech was so lovely because he said he couldnít have asked for a better team for his first residential and that weíre all like daffodils and weíre all blooming. God we were blubbering. Lisa was crying too and she said sheís never ever cried at after dinner speeches.
Then we played a game of hide and seek outside in the dark and the mist. Everything was freaking me out to be fair but it was funny. I hid up a tree and no one even came close to finding me

Then our final challenge was to create a presentation of the high points of the week. We wrote a song to Summer Nights from Grease. It was something like.
ĎResidential happened so fast,
Residential had me a blast
Met a boy called Ashy P
He could climb a bloody big tree
Met a girl called Stevie B
She got mistaken for a fallen tree
Tell me more, tell me more
We heard Charlie snore
Tell me more, tell me more
Richard slipped on the floor
Ooooh ha ha ha ha ha
Stewie spoke up and made a funny sound
Lee ran round
Slipped on the ground
Resi days, somethings begun
But oh those late nightsí
And I canít remember the rest. Well we didnít have much as we only had half an hour to do it. Then because it was so good we got our Team Member jumpers which I love and need to get a picture of. I really did love my week. We had ups and downs but it was so much fun. I ache so much now my mom says Iím walking like the tin man haha. I love my team so much I get on with them all. Iíve pushed myself so much this week but it was all worth it.